Delivering data-driven applications
Entopy's core aim is to help businesses gain tangible value from data. This value will ultimately be realised through data-driven applications and services. The foundational layer that Entopy provides supports rapid delivery and iteration of such services.
Delivering competitive advantage:
Being able to deliver new, data-driven applications and services quickly means that such services can be developed, enhanced, and modified to suit a specific business specific need.
To really unlock the power of data to be transformative as opposed to nice to have, the software needs to work around the business, for the business and be unique to the business. Having the same software as your competitor means limited to no competitive advantage. Unique software delivers unique tools to unlock unique competitive advantage.
The Entopy platform enables such software to be delivered quickly and cost-effectively for businesses to leverage to gain true competitive advantage.
Users can interact with the digital twin through intuitive dashboards. These applications make available key insights and enable users to watch and monitor the performance of a thing, process, or system in real-time. Examples may include seeing a consignment location on a map as part of a consignment journey digital twin or being able to see a real time heat map of footfall density as part of a food hall digital twin.  
Entopy has standard dashboard frameworks which enable rapid delivery, but every aspect can be customised to support specific business requirements.
User controls and permissions are controlled at the application layer, leveraging the segmentation of data provided by the Entopy core and digital twin.
Events (insights) drive action. As explained in the power of multidimensional insights, the greater the elapsed time from the event happening to the operator being made aware, the lower the value and impact that event will deliver. For this reason, Entopy has developed several tools that enable the rapid distribution of events to key stakeholders. We call this the notification centre.
Key stakeholders can receive notifications of events via email, SMS or push notification. Using common mediums of communication increases the likelihood of the right person is made aware of the event in a short time, increasing the probability of a positive impact because of the event being identified.
Again, user permissions and controls are handled at the application layer, ensuring only relevant stakeholders receive notifications for events they are permitted to. Users can see relevant events to them and manage which of those events are communicated and by which channels.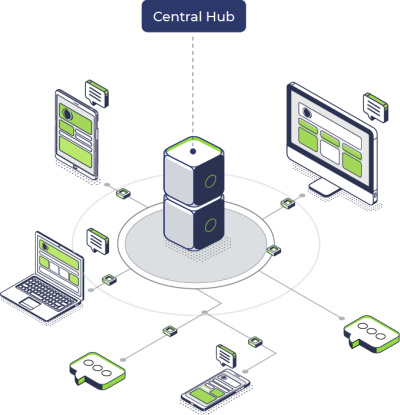 Another means of generating value from the digital twin created by the Entopy platform is through the interfacing of key data with other applications – or even developing brand-new data-driven applications and services on top of the semantic foundation created by the Entopy platform.
To this end, Entopy can provide an API swagger through which developers can interact with aspects of the digital twin. Entopy has a standard framework but again, this can be customised based on the outputs/model of the digital twin as well as the specific business needs.
Entopy provides developer support throughout and can work closely with your developer teams to support the use, iteration, and enhancements of the API to drive innovation and the pace of development.
The semantic foundation provided by the Entopy platform can be used to automate key processes and provide a strong foundation to support future artificial intelligence and machine learning activities.